The brilliance of the Faculty of Civil Engineering of Semnan University in the ranking of Shanghai 2023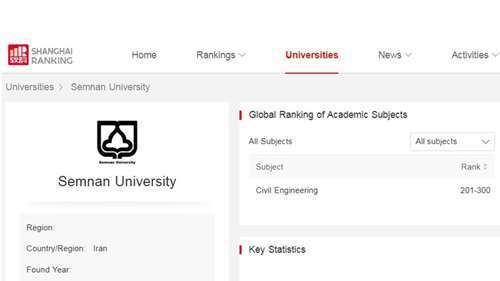 The Vice-Chancellor of Research and Technology of Semnan University Announced that this University was Named as one of the Top Universities in the World in the Shanghai International Subject Ranking System in 2023.
According to Semnan University public relations report; Announcing this news, Dr. Mohammad Hossein Ehsani said: In 2023, Semnan University has managed to occupy the 201st-300th place among the top universities in the world in the field of civil engineering.

The Vice-Chancellor of Research and Technology of Semnan University added: For the first time in 2018, Semnan University was able to enter the Shanghai ranking in the field of chemical engineering, and after that, in consecutive years until now, it has been able to repeat its presence in this ranking system in different subject areas of chemical engineering, civil engineering, and mechanical engineering.

Dr. Ehsani stated that 42 universities from the Islamic Republic of Iran are present in this prestigious global ranking system and pointed out that the names of more than 1,900 universities out of 5,000 surveyed universities from 104 countries and regions in the world are in the final list of this ranking.

It is worth noting that the ranking of Shanghai in 2023 has used 5 indicators as described in the table below to evaluate and rank the top universities in the world. The weight of each of these indicators changes according to each discipline.