In order to achieve scientific and technological authority, it was achieved;
Improving the position of Semnan University in the Times ranking of world universities in 2024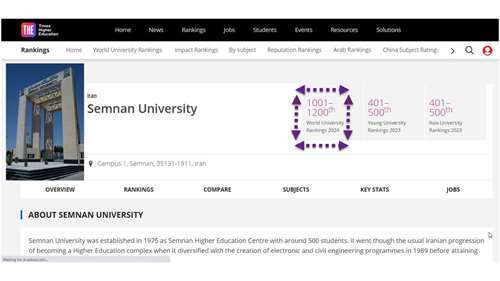 The Vice-Chancellor of Research and Technology of Semnan University Announced the Promotion of Semnan University in the Times Ranking of World Universities in 2024.
According to Semnan University public relations report; Announcing this news, Dr. Mohammad Hossein Ehsani said: Semnan University was ranked 1001 to 1200 in the latest ranking of Times 2024 universities.

The Vice-Chancellor of Research and Technology of the university stated that Semnan University was ranked 1201 to 1500 in the 2023 ranking of this ranking system and clarified: In the 2024 Times ranking, 1904 top universities in the world from 108 countries have been ranked.

Dr. Ehsani added: Among the 73 universities of the country that are present in this ranking, the share of the Islamic Republic of Iran compared to 2023 is accompanied by an increase of 8 new universities.

Dr. Ehsani stated: The Times ranking is one of the most famous international ranking systems that evaluate the world's top universities every year based on performance indicators in 5 general criteria of education, research, research quality, international perspective, and industry.

I have to say that so far, Semnan University has managed to be present in most of the prestigious national and international ranking systems, including Times, Shanghai, Leiden, Urap, US News, ISC, etc.